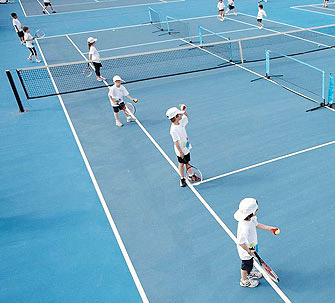 Tennis Hot Shots Holiday & Activity Camps

Looking for something different for the kids to do these holidays? Why not try our modified mini tennis with foam balls. These ball are extremely easy to rally with and require no playing playing experience. The balls are an effective playing leveller enabling kids of different ages to compete against each other making it heaps of fun.
Please followthe link below to view a foam ball match between to young boys you will notice the similarities with regular tennis its just that the rallies are far longer than regular tennis.
Please followthe link below of adults playing competitive foam ball mini tennis.
As you can see small courts, racquets and foam ball aren't just for very young kids but for all ages.

Our camps are open to all standards of players aged between 5 and 15yrs. Children will need to bring their morning tea and a drink with them on the day, along with a hat and sunscreen. Drinks and light refreshments will also be available to purchase during the camps.

Other Activities

Soccer, Cricket and Basketball..

Camp Details

Dates:

Week : 2nd -5th Oct
Week 2: 8th - 11th Oct

Time:
9:00 am to 1pm

Where:
Kooybilya Street Tennis Courts - Opposite 16 Koobilya St Seaforth
Cost:

Half Day: 9 – 1 pm - $45, 4 Days - $160


Click to Register

Payments & Conditions:
Online Transfer Details: BSB 062192 ACC NO: 10076341

1) Fees must be paid in advance as courts, coaches and equipment need to be factored and committed before the camp commences.
2) Cancellation must be made 48hrs prior otherwise no refunds


***** PLEASE FILL IN THE FIELDS ON THE ONLINE CAMP REGISTRATION FORM SHOULD YOU NOT RECEIVE CONFIRMATION WITHIN 24 HOURS PLEASE EMAIL: info@tennish2o.com *****




NSW SCHOOL HOLIDAY DATES